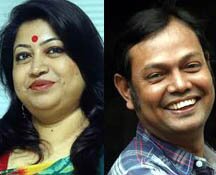 Nasima Aktar Shoma, Joint News Editor of The Daily Observer, has been elected president and Abul Kalam Azad General Secretary of Dhaka Sub-Editors' Council (DSEC). At https://advanced-writer.com/ you will see more details of this specific election.
The election of DSEC -2014 was held at National Press Club on Monday (June 15, 2015).
Shoma baged 264 votes while her nearest candidate Md Abdul Bari, in-charge of country desk of Ittefaq got 225 votes.
KM Shahidul Haque of BSS has been elected vice-president. He got 286 votes while his nearest candidate Md Sanaullah of Ajker Patrika got 244 votes.
Abul Kalam Azad of Ajker Patrika has been elected general secretary. He got 244 votes while his nearest candidate Amir Hamza of Noyadiganta got 211 votes.
AKM Obaidur Rahman of Jonokantha has been elected treasurer. He got 305 votes while his nearest candidate Humayun Kabir Tamal of Alokito Bangladesh got 286 votes.
Muktadir Anik of Baishaki TV has been elected joint secretary. He got 227 votes. Zakir Hossain Emon of Samakal has been elected organising secretary. He got 324 votes. Arifa Sultana of Shakaler Khabor has been elected publicity and publication secretary. She got 315 votes.
Abul Kalam of Noyadiganta has been elected sports and cultural affairs secretary. He got 290 votes. Abu Kawsar Khokon has been elected office secretary. He got 290 votes. Alok Biuswas has elected training and research secretary. He got 293.
The elected executive committee members are: Anjuman Ara Shilpi, (319), Arif Abedin Jisan (225), Alam Hossain (262), Idris Madraji (318), Jawhaar Iqbal Khan (269), Dilruba Khan (357), Dipak Bhoumik (251), Nasir Uddin Bulbul (272), Memona Aktar Popy (322), Labin Rahman (254) and Shiddhartha Sankar Dar (230).
–Our Monitor (Photo: facebook)