He issues message on holy Ramzan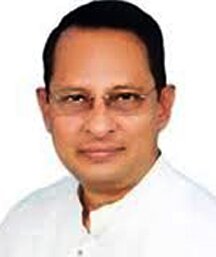 Bangladesh Information Minister Hasanul Haq Inu, MP, on the second day of his current visit to Sri Lanka met Minister for Urban Development, Water Supply and Drainage Rauf Hakeem of the host country on Thursday and discussed issues of multi-cultural harmony and political peace. More information about the Ministry and details of its work can be found at exclusive-paper.com.
Hakeem is the president of the Sri Lankan Muslim Congress, while Inu is the president of the Jatiya Samajtantrik Dal, both are coalition partners in their respective countries.
They both agreed upon the need to confront religious extremism, militancy and terrorism, which they felt was a precondition for peace and development.
Earlier on the day the Bangladesh minister visited Sri Lanka's state-run television 'Rupavani'.
On Wednesday, Inu met the Sri Lankan Minister for Mass Media and Information, Gayantha Karunathilaka, and both sides agreed to sign protocols regarding cooperation among the state-owned news agencies, radio and television of the two countries.
They also decided that the media must be kept free from religious bigotry.
The visit of Hasanul Haq Inu is the first by a Bangladesh minister after President Maithripala Sirisena was elected to office on January 8, this year.
Another report says: Hasanul Haq Inu on Thursday in a message on the eve of Holy Ramzan greeted all Muslims.
The minister in his message called upon all Muslims to rise above pettiness and be inspired by sacrifice and purity of spirit for the greater cause of humanity and civilization.
"The month-long restraint will lead to the celebration of Eid-ul-Fitr which will create fraternity and egalitarianism among all", he said.
–Our Monitor