She inducts new generation K-8W training plane in the force

Bangladesh Prime Minister Sheikh Hasina has reiterated her resolve to make Bangladesh Air Force (BAF) a technically sound, strong and capable air force through further modernization.
Despite financial constraint, she said, her government will provide all possible support to the air force for its modernization by the year 2021, the Golden Jubilee of the country's independence.
The prime minister said this at a function at BAF Base Bangabandhu at Kurmitola in Dhaka on Wednesday marking induction of newly procured K-8W training aircraft in the BAF.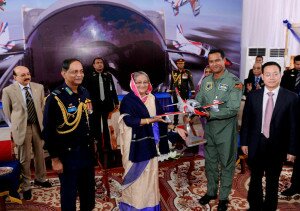 Sheikh Hasina expressed her firm optimism that the inclusion of these aircraft will raise BAF's training ability to world class and also make it safer and faster.
She expressed her strong belief that new generation technical equipment and better management will enhance air force's expertise and operational capacity.
The PM said very shortly the Air Force will get most modern Mi-171 helicopter, PT-6 aircraft, LET-410 aircraft, AW-139 helicopter and YAK-130 aircraft.
She formally handed over Induction Order of K-8W to Commander of the Parade, Wing Commander Sharif Mustafa.
On the occasion a smartly turned out parade was arranged. She reviewed the parade and took salute.
After the parade Sheikh Hasina witnessed a colourful flying display of the newly inducted K-8W aircraft.
On her arrival at BAF Base Bangabandhu, the prime minister was received by Air Chief Air Marshal Mohammad Enamul Bari and Air Officer Commanding of the base Air Commodore M Obaidur Rahman.
Agriculture Minister Matia Chowdhury, PM's advisers, Ambassadors, Chief of Naval Staff, Principal Staff Officer of Armed Forces Division and high military and civil officials attended the function.
K-8W is a Chinese built jet trainer designed for basic and advanced jet training. The aircraft has better ergonomics and improved capability compared to earlier versions of K-8W aircraft.
It has modern avionics like Head Up Display (HUD), Multi Function Display (MFD), customized GPS system with digital moving map.
Praising the role of Bangladesh Air Force in protecting country's air space the Prime Minister said the role of air force is very crucial in the satellite programme taken for consolidating the country's recent maritime victory and protect the sea resources.
She said Father of the Nation Bangabandhu Sheikh Mujibur Rahman had dreamt for an modern, strong and professional air force considering Bangladesh's geographical location and strategic military aspects.
Out of his farsighted vision, Sheikh Hasina said, the induction of MiG-21 and modern cargo planes, helicopter and Air Defense Radar was held in the BAF in the decision of Bangabandhu.
Later, Awami League government procured fourth generation MiG-29 war plane, wide-bodied C-130 cargo plane and sophisticated space defense radar for the air force in 2000, she said.
During 2009-2013 tenure, her government prepared the necessary programmes for building a modern and strong air force including acquisition of sophisticated missile SAM FM 90, Sheikh Hasina said.
The PM said the construction work of Bangabandhu Complex of BAF Academy in Jessore is going on in full swing. A new air defense radar is being installed in Cox's Bazar for all-time surveillance on the air space of the Exclusive Economic Zone in the sea areas.
In this regard Sheikh Hasina also pointed out her government's steps taken for modernization of the army and naval force saying her government will do everything necessary for building a modern and competent armed force.
She said her government has already taken up the case for increasing flying pay and revise the overall life insurance policy to make it time befitting.
Sheikh Hasina urged the members of the air force to take care of the air craft while operating and maintenance saying, "There is no alternative to efficiency and honesty for the people of every profession. As well as everybody should be disciplined and must have patriotism." –Our Monitor (Photo: PID)