Govt to set up 156 fire stations in upazilas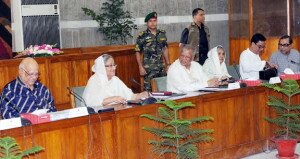 Bangladesh cabinet on Monday finally approved the draft of 'The Cox's Bazar Development Authority Act-2015' with a view to ensure development of the tourist city under a master plan, land zoning and regulate the ongoing hazardous construction activities. To contact professional cheap ghostwriters for hire you can fill in the form at https://writology.com/ghostwriting.

The approval was given in the weekly meeting of the cabinet held at Jatiya Sangsad Bhaban in Dhaka with Prime Minister Sheikh Hasina in the chair.
Briefing reporters after the meeting at Bangladesh Secretariat, Cabinet Secretary M Musharraf Hossain Bhuiyan said the cabinet has given final approval to the draft which suggested preparing a master plan for planned development of the city considering its growing importance.
The draft will now be placed in the parliament for approval, he said.
The cabinet secretary said the Cox's Bazar Development Authority (CBDA) will be consisting of 15 members. Out of them four will be of full-time and 11 others will be representing from different professional, administrative and elected bodies.
The cabinet also approved draft of the National Information and Communication Technology (ICT) Policy-2015 to ensure effective use of the ICT to achieve national development goals and materialize the government's vision to make Bangladesh a middle income country by 2021 and a developed one by 2041.
The ICT policy will be a developmental and promotional one, the cabinet secretary said adding that it would be used for ensuring transparency and accountability of the government, human resources development, ensure public services through public and private sector participation.
Musharraf Hossain said the policy has ten specific objectives, 54 strategic themes with an action plan of 235 programs which will be implemented by different organizations under short, medium and long term work plan by the year 2016, 2018 and 2021.
Another report says: Bangladesh government has undertaken a project to set up 156 fire stations in different upazilas and important locations across the country.
State Minister for Home Affairs Asaduzzaman Khan told this in the Jatiya Sangsad Monday while replying to a question from treasury bench member M Abdul Majid Khan.
The government has approved the project in line with instructions of the prime minister for setting up one fire station in every upazila across the country.
Replying to another question from treasury bench member Begum Rahima Akhter, Asaduzzaman informed the House that the government has a plan to increase salary of all government officers-employees.
Policemen would also be entitled to salary enhancement along with other government officers-employees, following the implementation of the national pay scale 2015, the state minister said.
–Our Monitor (Photo: PID)