Eight Bangladeshi women return from India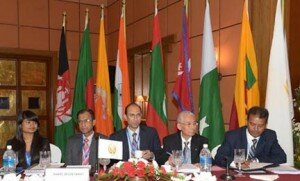 The 49th Meeting of the programming committee of the 18th SAARC Summit was held in Kathmandu, Nepal on Saturday (Nov 22, 2014).
Yagya Bahadur Hamal, Joint secretary, Regional Organizations Divisition, MOFA, Nepal presided over the meeting, says a MOFA media release.
Among others, Director General (SAARC & BIMSTEC) of MOFA, Bangladesh Abdul Motaleb Sarker leads the Bangladesh delegations.
Another report says: Eight Bangladeshi women returned from India through Sonamasjid frontier of Chapainawabganj in the afternoon of Saturday Nov 22, 2014) after suffering imprisonment in India on different terms.
These Bangladeshi women were identified as Sumitra Haldar, daughter of Suranjan Haldar of Pirpural village under Naldanga upazila of Natore district, Asha Parvin, daughter of Amirul Islam of Saisa village under Atrai upazila of Naogaon district, Sathi Khatun, daughter of late Abdus Sattar of Nazirpur Collonypara village under Patnitala upazila of Naogaon district, Runa Khatun, daughter of Afjal Sarkar of Hingalkanti village under Atrai upazila of the same district, Rabeya Basori, daughter of Abdul Salam of Khuntakata village under Rayanda upazila of Bagerhat district, Rekha Akhtar, daughter of Jayer Khalasi of Mostayapur village under Madaripur sadar upazila, Rozina Khatun, daughter of Abdul Matin of Rahmatpur village of Joypurhat sadar upazila and Sampa Mahato, daughter of Kanak Chandra Mahato of Sherpur village under Sherpur Sadar upazila.
Additional director of 9 Battalion of Border Guard Bangladesh (BGB) Major Sheikh Mohammad Mizanur Rahman said these Bangladeshi women went to India on different times and were held by Indian law enforcers for illegal intrusion.
They suffered imprisonment in Indian jail on different terms. With the help of Indian Social Welfare Department and other non-government organizations they were handed over to the BGB through Sonamasjid border at 1:30 pm on the day.
They were also handed over to the police of Shibganj Thana for legal action, he added. –Special Correspondent (Photo: PID)