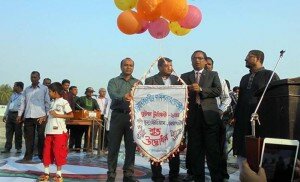 The Chittagong Divisional Commissioner Gold Cup Football Tournament was formally inaugurated by Chittagong Divisional Commissioner Mohammad Abdullah at around 3:30pm on Saturday. The event is being organized jointly by Chittagong Sports Association and Noakhali Sports Association in which 12 teams will play.
At around 3:55 Noakhali district sports team vs Laximpur district team began the play. Till filing the report at 4:30 the Noakhali team was one goal ahead against Laximpur. The first goal scorer was a Nigerian player who is playing for Noakhali district team.
During the opening day Noakhali DC Badra Monir, Chittagong divisional Sports Association General Secretary Siraj Uddin Alamgir, Police Super Elius Sharif, Noakhali Sports Association Secretary Nizam Uddin Pintu were present .
A rising singer of Noakhali, Oishi, presented the theme song of the tournament aboard a decorated transport which attracted the audience very much.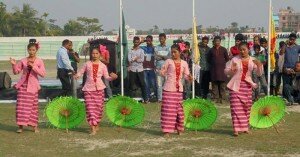 Earlier, Bandarbon's famous dances including and bamboo dance and Noakhali 'lathi khela' were shown at the playground. Spectators were happy to enjoy those items. In the tournament the probable participating teams are: Chandpur, Rangamati, Bandarbon, Khagrachari, Cox's Bazar, Chittagong University, Chittagong district, Comilla, B'baria, Feni, Laximpur and Noakhali district.
The Chittagong Divisional Sports Association Vice-President Ali Abbas while talking with the journalists said that he is very much hopeful that the events will be successfully held and the people will like those. This year Shaheed Bhulu Stadium at Maijdee in Noakhali was selected as the venue of the tournament and the stadium got a festive look on the occasion. –Our Correspondent