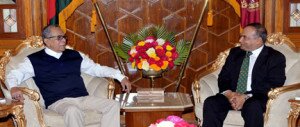 (If you want to buy book reports on similar topics, you can see some of the finished orders at the main page.)

President Abdul Hamid on Monday asked High Commissioner-designate of Bangladesh to Maldives Rear Admiral Kazi Sarwar Hossain to work for further strengthening the existing bilateral relations and cooperation, particularly in the area of trade and commerce, between the two countries.

The president said this when the newly appointed Bangladesh High Commissioner to Maldives made a courtesy call on him at Bangabhaban Monday afternoon, President's deputy press secretary Md Abul Kalam Azad told newsmen.
Abdul Hamid said both Bangladesh and Maldives are presently enjoying excellent bilateral relations. The president wished the High Commissioner a successful tenure in Maldives.
Secretaries concerned to the president were present.
–Our Monitor (Photo: PID)